Looking to get in shape in 2016? Although you can get fit using nothing more than a fine pair of running shoes, or a bit of floor space and your own body weight, you can also help your chances of getting ripped and almost irritatingly healthy by using tech.
To that end, we've got everything from the latest in high-tech treadmills, a standing desk that could prolong your life and, er, some running shoes with springs in. Yes, that is now a thing. There's also a wearable that tells you how to breathe "correctly", and we've also thrown in a few more down-to-earth suggestions. Isn't tech marvellous?
In case you didn't know, smart shorts are a thing now. These, from the people who made you sit up straight with the "Lift" wearable now want to focus on your running. So these shorts use biometric sensors in the waistband to track pelvic stability and rotation, as well as your cadence, bounce, stride length, ground contact and 'braking'.
Add the inevitable app open on your smartphone, it'll bark gait instructions over your headphones. The wonder kecks also boast an accelerometer, gyroscope, magnetometer, barometer and vibration monitor – in fact, it would be easier to ask what it's not got secreted within its Lycra-mix folds. Lumo Run is out later this year, but you can pre-order your pelvis's new best friend right now.
Much of the developed world's obesity problem is down to our sedentary lifestyles, and if you work in an office, that's mostly because your bottom is squished into a chair for eight hours a day, five days a week. So consider how many calories you'll burn, over a working year, just by standing up. Then consider that a lot of research suggests that sitting long-term is about as good for you as chewing on a bacon sandwich that uses asbestos in place of bread.
All of a sudden, a rising platform that lets you operate standing up or sitting down as the mood takes you seems like a much less mad idea, no?
Tangram Smart Rope
Popular with both beefy boxers and small girls, skipping here gets a tech update with 23 LEDs embedded throughout this 'smart rope'. How is it smart? We're pleased you asked!
Spin the rope up to speed and the LEDs create a 'screen' before your eyes, displaying current jump count, with future updates adding calories burned and interval training. Sync to its Smart Gym app and it'll track basic counts, interval training and even create leaderboards to keep up with your happy, skipping friends.
One charge should deliver a month of skips, while two sets of ball bearings in each handle deliver a beautifully smooth rotation, and the chrome handles make the whole thing feel nicely premium. All together now: "Apples, pears, peaches and plums…"
It's all well and good pulling on a vest and doing some squats or something, but if your breathing's all askew, you'll never find any equilibrium. Step forward, it hopes, Spire, with its breath-based wellness tracker.
Already a clip-on fitness tracker that counts steps and calories burned, Spire's main USP is that it tracks your breathing and tracks your progress towards daily goals for Activity, Calm, and Focus. It'll notify you via the app when you're tense and need to take a deep breath, and also if you've just experienced an extended streak of calm, and need to give yourself a tiny, private high five. Aaaaand… breathe.
This is here because not only is it an excellent step counter, but it's also the best swimming tracker on the market that isn't the rather less stylish Garmin Swim.
Waterproof to 50m it automatically tracks your swim distance and gives you an instant percentage towards daily goal readout on the basic, LED display. Add sleep tracking with subtle, buzzy alarm, activity nagging, new-for-Shine-2 mobile message notifications and automatic step tracking and this next generation thing is one of the best fitness wearables out there, astonishingly accurate and winningly versatile.
It looks really nice, too, which isn't something we'd claim for many of its rivals.
Enko running shoes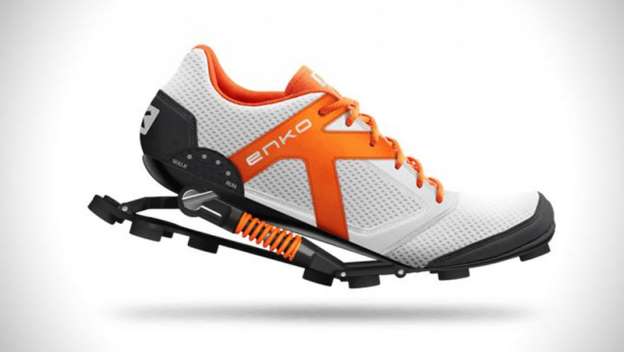 If you can get over the embarrassment of wearing these built up running curios, you can feel the benefits of their tech. On the back, there, is a shock absorber with 2cm of travel, which pushes in a spring on the side. This deadens the impact of your stride, stores the energy and then releases it progressively as you lift off, to give each step a little zing.
You can change out the springs depending on your weight, and each spring is good for a million cycles, the company reckons. Meanwhile, a walking or running selector changes the angle of attack to suit your exercise. Boiiiing!
TomTom Spark
The inevitable running watch. If you're serious about running, or aim to become serious, a GPS watch is essential. And this gets our nod, although we also like Garmin's extensive Forerunner and Fenix ranges.
Combining a smorgasbord of running metrics – distance, speed, time – with a scarily accurate in built optical heart rate monitor, the Spark also has onboard RAM space for up to 500 MP3s which you can listen to over your run via bluetooth headphones. Of course, it plays nice with all the running apps you can think of and it'll also track cycling, swimming, treadmill, gym workouts, indoor cycling (with a cadence sensor) and open training. A winner.
NordicTrack Elite 4000 treadmill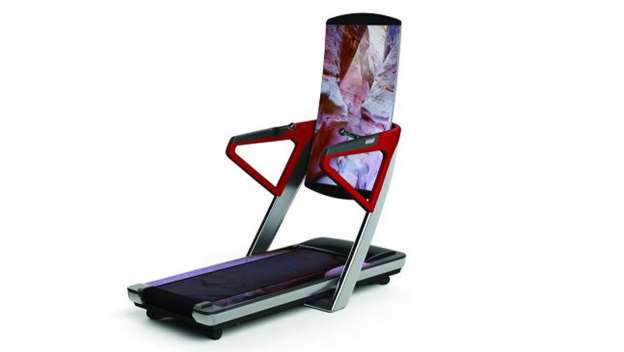 The thing with pulling on some trainers and going outside to pound some tarmac is that often it's windy and rainy and humans are weak creatures. However, splashing two grand on an indoor treadmill can provide powerful motivation to get your money's worth.
Although pricey, NordicTrack's one here ramps up and down to offer incline and decline training. Its 15-inch vertical HD screen lets you run through virtual environments (or you can use it to watch the footy on), and there's also heart rate monitoring via a wireless chest strap. The iFit app lets you recreate runs using Google Maps.
Finally, it'll make a great clothes hanger when you inevitably give up.
Tech tats
Hopefully landing at some point next year, Texas-based tech company Chaotic Moon Studios are working on semi-permanent biometric devices that are 'tattooed' onto your skin, essentially embedding a fitness tracker, microchip 'n' all, under your dermis.
These will be able to track not only step counts and workout times, but also as they're, you know, 'in you', should be able to track blood sugar, heart rate, body temperature and metabolism.
Yup, now even your socks are smarter than you. Sensoria has produced some foot huggers that are 'infused with proprietary 100% textile sensors'. These feed into a snap-on Bluetooth anklet that relays data to your smartphone and app: step counting, speed, calories, altitude and distance tracking are all done. Standard.
But that's not all. The clever bit is that Sensoria tracks cadence and foot landing technique as you run (and walk), giving real-time feedback and helping you diagnose and prevent injury caused by inelegant running styles.
We also suspect that your mates will not possess 200 dollar socks, giving you full post-run tech bragging rights.
Cannondale Slate
Not just a thing of beauty, a lot of brainwork has gone into this on road and off road bike. It's not just the fashionable specification of disc brakes, or the aluminium frame with internal cable routing, or the 30mm travel carbon fibre "lefty Oliver" fork.
Nope, what stands out is the fact that this road demon is built around the unusual choice of smaller wheels that pack beefy, 42mm tyres, so the wheel has the same circumference as a regular 700cc road wheel, but offers much more give, for an easier ride on and off road.
If you're a person what skis, these bind to your board and link through to an app which records, visualises and analyses your ride for you. So four load sensors at the bottom of each foot visualise your foot balance while two flex sensors placed at the head and tail of the snowboard show how much your board is flexing, making it easier to practise ollies and nollies.
Finally, built-in LEDs on the heel and toe mean you'll be easy to pick out (and therefore safer) for dusk riding.
Just as much of a design statement than a workout machine, Tornino Lamborghini's (that's the famed Italian supercar maker's son, if you were wondering) team-up with Ciclotte produces a stunning looking circular exercise bike. This edition of the Ciclotte comes decked in black carbon fibre, red handlebar grips, plus the touch display for adjusting resistance levels and rechargeable battery that we saw on the original.
Article source: http://www.msn.com/en-gb/money/technology/2016s-most-ridiculous-fitness-tech/ss-BBosNra#image=1